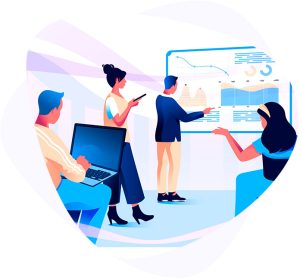 Seeking a 24×7 outsourced technical support partner or a reliable server management firm that can manage tickets and chats for your web hosting company with incomparable excellence? Look no besides! 24×7 ServerSupport is among the most esteemed and best outsourced hosting service company that offers 24×7 proactive server monitoring, web hosting technical support on OS like Windows, Linux, and control panels like Plesk, DirectAdmin, cPanel, remote server management, and practically all hosting technologies for server owners, web hosts, and data centers of every size.
At 24x7ServerSupport, we help companies take a people-critical view to delivering Outsourced services. Through this approach, our clients realize major improvements in service delivery and business impact, including improved productivity, simplified management of the computing environment, and optimized infrastructure. We specialize in server security, server management, Level-1,2,3 issue fixes before the users realize they are happening. Our focus is to help organizations achieve their business objectives through their most important asset, their people. We have created below 4 packages to achieve the goal for our clients.
Your own white labelled dedicated team

Hosting control panel support, as well as setup for a trial period of two days
Your SLA, Your Guaranteed Response Time
Setup and Installation of the VPS Control Panel
Support for Operating Systems Included Migration of Openvz, Xen, KVM, VMware, and Openstack nodes and hosting accounts
Hiring an Entire outsource server Management Company:
Pros:
Diverse Skill Set: A company often comprises multiple professionals with different skills, allowing them to handle a wide range of tasks and projects.
Scalability: companies can handle larger projects and provide additional resources as your project requirements grow.
Redundancy: With multiple team members, there is a higher chance of having backup support if any individual becomes unavailable.
Expertise in Collaboration: Companies often have established systems for teamwork and collaboration, ensuring a smooth workflow.
#outsource #dedicatedteam #outsourceteam #serveradmin #outsourcig #dedicatedadmin
| Plans | $1500/mo | $2500/mo | $5000/mo |
| --- | --- | --- | --- |
| No of level-1 techs | 2 | 3 | 4 |
| No of level-2 tech | 2 | 2 | 4 |
| No of level-3 techs | 1 | 2 | 4 |